Why t

R

ips to Italy
Trips or tips? Why choose, when you can have both: you can't leave for a trip without some good tips!
The aim of our website
That's the aim of our website:  help overseas tourist to enjoy a unique experience in Italy, by giving useful tips about where to sleep or eat, what to see and what events you can attend in the Italian place you would love to see.
We will give you the advice thatyou do not expect, so get ready to read about the small village you never heard of, but that you should see if you want to say "I've really seen Italy"; we will tell you about nice and typical events, which are not advertised; we will suggest you the typical, "unknown" restaurant, because it's not a restaurant for tourists placed in a main street. After all, Italy is not only Rome, Milan and Florence but it's made of many small "gems", unusual destinations, which are not celebrated by traditional travel guides but fascinating and worth seeing, though. We would like you to know, that when flying to Italy, you can see something different and characteristic not to far from the renowned main cities.
How the idea came out
You can trust us, because our tips are based ondirect experience and not because "we heard about it". That's exactly how our idea for tripstoitaly.it was born: we were spending some days in amazing Polignano a Mare, region Apulia, and we were browsing a famous social network. We saw a picture posted by a non-Italian and the place looked quite familiar: it was the picture of a stunning restaurant in a cave overlooking the sea. Obviously, everybody in the social network started asking where that restaurant was and the guy, who posted the picture, added a link from a website, where it was said that place was in Ostuni, Italy…. Ostuni? There is no sea in Ostuni! We immediately realized, that the one in the picture was a famous restaurant in Polignano a mare, the place we were right in that moment! We started thinking about the poor foreign tourist, who leaves from his Country to see that amazing restaurant in Ostuni and doesn't find it and we decided that people, who love our lovely  Country and decide to visit it, deserve to be supported and guided to the best places, in order to enjoy a unique experience , that they will remember for the rest of their lives.
Who we are
Sandra Cappella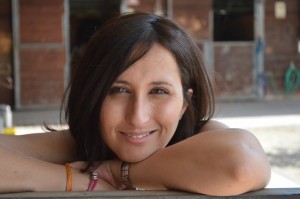 Born in 1977 in region Marche, where she currently lives. She holds a degree in Foreign Languages and she's working as an export manager in a B2B company.
Due to her studies and job, she had several experiences abroad, both as a traveller and as a citizen, which allowed her to gain a 360 ° experience as a globetrotter, but also understand the vision that foreigners have about Italy, thanks to her many conversations with friends and people she met.
When travelling, she's the one who always notices "life", meant as people, shops which may tell a life-story, all the signs of past traditions and current lifestyle.
Alberto Rebichini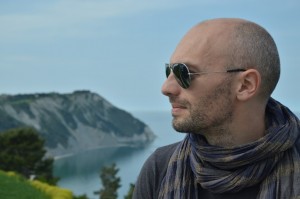 Born in 1979 in region Marche, where he currently lives. He's got a Master's degree in Architecture and he's involved with high profile architecture projects.
When travelling, he's the one who always notices weird buildings or architecture details and he's the one, who gives a great contribution in our descriptions of buildings and what is worth seeing.
He's got relatives in the US and all around Italy, from North to South: this allowed him to travel quite a lot around Italy and in the US, coming in contact with different cultures and points of view, related to Italian areas and regions.
Though from a totally different background, we share our passion for travels. We like travelling all around the world and whenever we have time, we pack and take a flight to somewhere in the world. When we do not have time…we pack and we drive to somewhere in Italy for a week-end! We love architecture, good food, sleep in nice but not expensive places. We are always looking for the typical event to attend, in order to enter into the culture and share experiences with the natives of the area: we love talking to local people and learn the history of the place and its traditions.
Now, after years spent answering our overseas friends' questions about what's worth seeing and doing in Italy, we want to share our experiences with you all and giveour contributionto your unforgettable Trip To Italy!